Travel Bargain destination in Canada
VANCOUVER'S GASTOWN
Time to Blow Off a Little Steam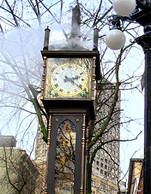 Once nearly forgotten and given up as Vancouver's "Skid Row", Gastown has become on of the west Canadian city's prized city tourist sights. Orginally called Granville, the nickname of Gastown comes not from a noxious fuel for lamps as one might suppose but for a saloon keeper from the early pioneer days named John Deighton known as "Gassy Jack", who opened his establishment in 1867. Shortly, the area became the busy nexus of the seaport and the Canadian Pacific Railway Vancouver terminus. After a five devastated the area, the railroad moved its operations elsewhere and the area fell into decay. Gastown began a revitalization in the 1970s when Water Street was designated as a historic heritage area. Gassy Jack's saloon is long gone but his statue now watches over the bustling upscale business area at the corner of Water and Carral streets.
Gastown has since attracted stores, restaurant, sidewalk cafes and modern day saloons along its cobblestone streets and sidewalks. The oldest building is the Regina Hotel which survived the fire. On Water Street near Maple Tree Square you can wander the wooden floors of The Landing, a warehouse from 1900 now an indoor sopping experience. The Hudson House once west coast headquarters for the Hudson Bay Company was built in 1897 in a Romanesque revival style.
On Water Street you can find The Courtyard Building where the Architectural Institute of British Columbia is located. If you're interested in architecture of Vancouver the Institute will provide information regarding walking tours. Perhaps the most famous sight in Gastown is the Steam Clock which puffs out steam every hour as it chimes. The only operating steam time piece in the world, the current clock is a restoration of the original.
Blood Alley got its name from the butcher shops that used to be located there and its history in the old pioneer days as the spot for public executions of prisoners held at the city's first jail in neighboring street Gaelor's Mews. The bathrooms of the Irish Heather Pub are now located where the old jail cells once stood. Other colorful restaurants and pubs in the area are Characters Restaurant and the Steamworks Brewing Co., but the butchering of your steak or hamburger no longer takes place next door.
Gastown is a short walk from the old CP Railroad station on Cordova Street which now serves as a hub for bus and local transportation and the waterfront, within walking distance of most downtown hotels, shops and other attractions. © Bargain Travel West
Find best hotel and vacation deals in Vancouver on TripAdvisor
Web Info
Vancouver

These articles are copyrighted and the sole property of Bargain Travel West and WLEV, LLC. and may not be copied or reprinted without permission.
See these other articles on Bargain Travel West:
HOTEL DE GLACE – QUEBEC CITY
Cuddle at Canada's Ice Hotel
GRAND ALLEE – QUEBEC CITY
Bars, Nightclubs and Restaurants of Nightlife Central

COLUMBIA STATE PARK
Travel Gem of the Gold Rush

JAMESTOWN MOVIE STEAM TRAIN
California Gold Country Movie History