Travel Bargain destination in Canada
VANCOUVER'S WINTER OLYMPICS 2010
Athletes and Entertainers
By Valerie Summers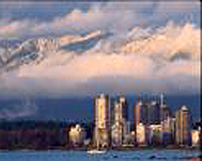 Celebrated as one of the three most livable cities in the world, Vancouver in British Columbia, Canada, added another honor when selected as the 2010 Winter Olympics host city. The games blast off on February 12 - with the Paralympics Winter Games following on March 12. The world's best athletes and eager spectators from around the globe will congregate in beautiful Vancouver and the nearby alpine skiing resort of Whistler to celebrate a cavalcade of winter sporting excellence.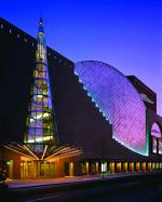 Since the first Olympic Games in Greece began more than 2,000 years ago, the Games have celebrated not only the most outstanding athletes from around the world, but also premiere artists and performers. This year is no exception. The eclectic lineup features entertainment which will suit every taste and interest. During the weeks preceding the games, Vancouver has planned more than 600 free and ticketed events to exciting and diverse cultural celebrations and sporting events. The Cultural Olympiad 2010, beginning January 22 and concluding March 21, includes an explosion of the arts in theatres, galleries, village plazas and downtown streets in 60 different venues. Comedians, musicians, theatre performers, dancers, visual artists and circus acts will entertain visitors before and between their attendances at various sporting events.
The enormous array of world class entertainers will present the Kirov Ballet's prima ballerina Uliana Lopatkina in her Canadian debut and viola master Yuri Bashmet in an evening marrying music and ballet from the host nation of the 2014 Winter Games. The eclectic lineup also features R&B crooners Raphael Saadiq and India Arie and includes Phoenix, an alternative rock outfit from France. Amazing audiences, the New York dance company STREB Extreme Action designs bizarre, prototypic contraptions which launch them into show-stopping jumps, falls and live action dance stunts in Raw. Other top performers from around the world will provide an endless variety of entertainment.
Olympic Winter Games Dates: February 12 to 28, 2010
Paralympic Winter Games Dates: March 12 to 21, 2010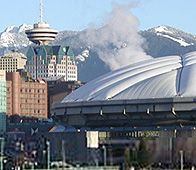 Vancouver has created several multi-million dollar Olympic venues. Gold, Silver and Bronze will reign at the newly refurbished BC Place where the Opening and Closing Cereminies of both games will be held in central Vancouver as well as the nightly Victory Medal Presentations. The Olympic Athelete Village will be in the city's False Creek area with spectacular views of the downtown skyline and coastal mountains. The Thunderbird Arena on the campus of the University of British Columbia will host men's and women's ice hockey events as well as men's sledge hockey. The Vancouver Olympic/Paralympic Centre, the venue for Olympic curling and Paralympic wheelchair curling presents a model of sustainable design. The $178-million Richmond Olympic Oval, the venue for Olympic speed skating events located on the banks of the Fraser River across from the Vancouver International Airport south of the city center will host 14 days of exciting competition and 12 medal events.
The year 2010 marks the first time in history that Indigenous people have been recognized as official partners in hosting the Olympic Games. The eighth annual Talking Stick Festival, in mid-February, celebrates traditional and contemporary Aboriginal performance and art at locations citywide. The Vancouver Organizing Committee has selected a contemporary interpretation of the inukshuk as the official emblem of the Games. These stone sculptures used by Canada's Inuit native people as directional landmarks across the north have become adopted as a symbol of hope, friendship and hospitality throughout Canada. Excitement is building as Canadians and international visitors anticipate Vancouver's place as a winter world stage in 2010. © Bargain Travel West
Find best hotel deals, compare prices in Vancouver on TripAdvisor
Web Info
Tourism Vancouver
Olympiad Culural Events

These articles are copyrighted and may not be copied or reprinted without permission. Photos and text of "Vancouver's Winter Olympics" copyright Valerie Summers and courtesy of Vancouver Tourism. Valerie is Editor of the Southern California Guide
See these other articles on Bargain Travel West:

VANCOUVER'S GASTOWN - SHOPPING & RESTAURANTS
Blow Off a Little Steam
SUN & SNOW AT SUN PEAKS
Winter in British Columbia, Canada
HOTEL DE GLACE – QUEBEC CITY
Cuddle at Canada's Ice Hotel
VALCARTIER VACATION VILLAGE
Quebec's Family Winter Playground