Travel destination in New Mexico

HOT AIR BALLOONS OVER ALBUQUERQUE
World's Largest Balloon Festival in October
39th Albuquerque International Balloon Fiesta in 2010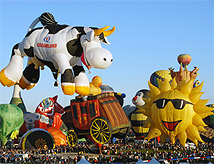 For nine days in October hot air balloon enthusiasts from around the world gather in the New Mexico hills and desert for the annual ritual of launching the colorful gas envelopes into the skies for the annual Albuquerque International Balloon Fiesta. From October 2nd to the 10th, thousands of spectators will experience the amazement and wonder of the event themed "Earth, Wind and Flyers" for 2010, experiencing the launch of more than 500 balloons each morning.
More than 650 pilots will represent 17 countries and 39 states during the event that marks an annual pilgrimage for balloonists from around the globe. New Mexico itself is home to the largest number of balloon pilots and nearly 200 balloons. Pilots from all corners of the Earth are drawn to Albuquerque's unique fall weather, taking advantage of the "box". A special air current unique to the Rio Grande Valley, a combination of upper and lower level winds enhanced by the Sandia Mountains, the box enables balloonists to sometimes backtrack along their flight path and return to land close to their original launch site.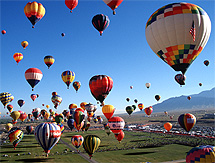 Ninety-one special shaped balloons are registered for the 2010 Albuquerque Fiesta including some of the newest balloons – The Stork, the Zebra, Crazy Crab, Waddles and the Three Monkeys. Special shapes are often the highlight of the week, from stage coaches to whacky characters especially for kids who can collect trading cards for their favorite balloons. Residents of states outside of New Mexico are sometimes surprised to see a balloon float past their home during the first week of October, as the America's Challenge Gas Balloon Race sends 18 pilots and nine gas balloons on a distance challenge. The event launches from Balloon Fiesta Park in Albuquerque on Tuesday, October 5th with the challenge of flying the greatest distance, which often involves at least two days aloft and covers more than 1,000 miles across the country.
In addition to a spectacular colorful feast for the eyes, Balloon Fiesta spectators are also treated to tempting tastes of foods from vendors from around the Southwest. After the ballooning action is over, the city of Albuquerque will be bustling with activity and events as it rolls out the red carpet for its premier international event. Be sure to check out all that Albuquerque has to offer. © Bargain Travel West
Find best hotel and vacation deals in Albuquerque on TripAdvisor
Web Info
Balloon Fiesta
Albuquerque Festival
These articles are copyrighted and the sole property of Bargain Travel West and WLEV, LLC. and may not be copied or reprinted without permission. Photos by Raymond Watt and Ron Behrmann.
See these other articles on Bargain Travel West:
SKI VALLEY TAOS
Bavaria Alpine Skiing in the Southwest

DURANGO AND SILVERTON RAILROAD
Scenic Ride on Colorado's famed Steam Train
THE GREAT RENO BALLOON RACE
Hot Air Glow in the Desert Dawn