Travel Bargain destination on the California Coast
CAMBRIA - Pacific Coast Highway
Getaway for Hearst Castle and Seal Pups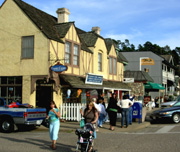 Whether driving the famed California coastal scenic Highway 1, known for its wave-washed jagged shoreline along the steep green brushed slopes and rocky bluffs of the California Coastal Mountains, a visit to Hearst Castle, grand monument to America's first newspaper empire of William Randolf Hearst, or even a weekend to dip toes in the Pacific shore sands and watch California Elephant seals beach bathing and doing what seals do, the small town of Cambia is the not-so-secret wayward stop laying halfway between Los Angeles and San Francisco. First established in the early mission days of California and bypassed by the railroad in the late 1800's, Cambria has remained a small coastal town known as an artists colony.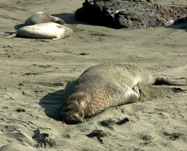 A charming little village of arts & crafts and antique shops just off of Highway 1, Cambria lies just north of San Luis Obispo and Morro Bay at the junction of where Highway 46 from Paso Robles intersects the coastal scenic route. Cambria is the closest populated area to Hearst Castle and the coastal state parklands of the California conservancy protection zone, the Piedras Blancas Lighthouse and Elephant Seal Rookery where seal pups are born and weaned before setting off to sea, with viewing area just a pull-off along the highway. The vineyards of south central coast wine growing lie in the valleys and hills between Cambria and Paso Robles (see Paso Robles Wine Festivals) along highway 46. Enjoy biking trails and hiking paths along the coast or in the cypress hillsides or take a Wine Bus tour for wine tasting tour of the nearby vineyards with no need to drive. North from the town center lie the tide pools and secret cove beaches that have attracted the painters and artists to depict the magnificent California Coast scenery. Except for camping at Big Sur, Cambria is about the last stop to find a hotel room to rest a weary head before the 4 hour coastal drive to Carmel and Monterey.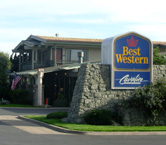 A number of hotels and bed & breakfasts can be found in and around Cambria, many lying just across the highway from the coastal beaches with evening views of sunsets on glimmering waves. Moonstone Hotels is a boutique brand of unique lodging properties specializing in revitalizing classic older properties into updated style and comfort (see Monterey Hotel) and they have three properties in Cambria. The Sea Otter Inn and Pelican Cove Inn lie along the coast offering cottage inn style accomodation with fireplaces, whirlpools and ocean views. The Cambria Pines Lodge has been an institution in Cambria since 1927, the first hotel built when land speculators began attracting prospects. The historic lodge offers themed gardens and forested paths and walking steps from the restaurants and crafts shopping of central Cambria. A search of Cambria Chamber of Commerce website will find a wide array of hotel and motel lodgings at a range of prices, vacancies can often be found, just stopping along the highway, though in high summer season a reservation at more distinct lodgings would be a good idea. © Bargain Travel West
Cambria Best Western
Fireside Inn on Moonstone Beach
Find best hotel and travel deals in Cambria on TripAdvisor

These articles are copyrighted and the sole property of Bargain Travel West and WLEV, LLC. and may not be copied or reprinted without permission.
See these other articles on Bargain Travel West:

SAN FRANCISCO'S FISHERMAN'S WHARF
Best things to do on the famous wharf by the Bay
ANACAPA CHANNEL ISLAND CRUISE
Seagulls, Wildflowers and Whales
VICTORIAN INN
Monterey's Cannery Row

SHORE CLIFF LODGE
Romantic Ocean View Hotel at Pismo Beach