Travel Bargain destination on the California Coast
SHORE CLIFF LODGE
Romantic Ocean View Hotel at Pismo Beach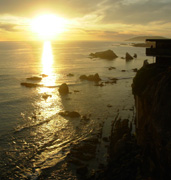 Sit on the balcony of your hotel room with a glass of wine from one of the local Paso Robles wineries and watch the sun set into the golden blue Pacific Ocean where the waves brush in white foam along the rocky sea cliffs. This is the view you get at the Shore Cliff Lodge in Pismo Beach, California. At least when the weather's good. Located midway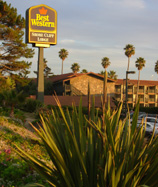 between Los Angeles and San Francisco along the 101 freeway, just north of the beach and pier of Pismo The Best Western Shore Cliff Lodge enjoys a quite unique location among hotels at the top of a 90 foot sea cliff on the Pacific ocean and is conveniently near a variety of activities, Hearst Castle, the wineries of the Paso Robles Central Coast (see Paso Robles Wine Festivals), Morro Bay, world class golf are all within a half hour drive, for a romantic week-end getaway, wedding or honeymoon, or just a waypoint stop between LA and the SF bay area.
Pismo Beach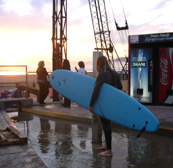 Pismo Beach is perhaps most famous for its clams, but clam digging has long been outlawed, but is still a mecca for surfers. The beach and pier at Pismo suffered some damage in the storm of 2006 but is taking shape again. Pismo Beach has long had the aura of a individualist sort of place, attracting surfers and bikers. Local bars and night clubs on the few blocks from the pier offer a distinct California beach town atmosphere and one of the best BBQ restaurants on the west coast, Mo's Authentic Barbecue.
Mo's Best BBQ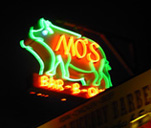 After twenty years in the restaurant business, Mo decided to open a BBG so he took a trip through the barbecue capitals from Texas to Kansas City through the Carolinas, then incorporated the best of what he learned into his own recipes, and it shows. Mo's has been winning awards for years. And in an ocean front town where fish is the main dish, a little sticky sweet BBQ is a bit of back home surprise. As he says "Mo don't know fish".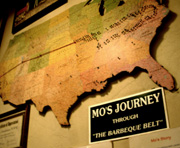 For the fans of seafood there are a number of choices around Pismo or after squishing your toes in the beach sand, head back to the hotel for sunset ocean views at the Pelican Point Restaurant with sunset hors d'oeuvres and dinner on a private balcony overlooking the waves and take a late night swim in the areas largest heated pool or after tipping a few glasses of champagne at the live entertainment night club and head to the hot tub. © Bargain Travel West
Best Western Shore Cliff Lodge
at Pismo Beach
Find best hotel and travel deals in Pismo Beach on TripAdvisor

These articles are copyrighted and the sole property of Bargain Travel West and WLEV, LLC. and may not be copied or reprinted without permission.
See these other articles on Bargain Travel West:
OAKDALE - GOURMET BBQ IN COWBOY COUNTRY
Dinner Train, Murder Mystery and Rodeo

BARKING BY THE BAY
The Wharf Inn - San Francisco
VICTORIAN INN
Charm on Monterey's Cannery Row