Travel Bargain destination in San Francisco
GUN IMPLACEMENTS AT THE GOLDEN GATE
Invasion of San Francisco That Never Came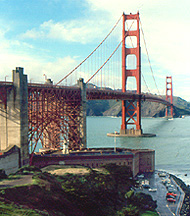 The southern anchor of the Golden Gate Bridge arches over Fort Point like the protecting arm of a big brother, reaching across the steep cliffs of the entrance to San Francisco Bay. Once considered impossible to bridge the Golden Gate has become an American icon and the supreme identifying image of San Francisco. Driving over the bridge to Sausalito is a celebration of man's engineering skill and ability to conquer nature, but stop at the plaza of its southern achor and walk over it for the real unforgettable close-up view of design facets in its "International Orange" steel cable supports, and the dizzying look into the churning bay waters that lick at its foot supports.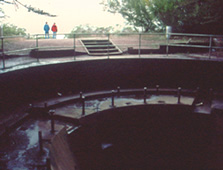 Hike underneath the southern anchor from the plaza and you can nearly touch the steel lattice understructure of the first landlocked arch supporting the cable suspension section. Continue around the cypress dotted slope to the face of the Pacific Ocean, follow the path and through a tunnel and you will discover the remnants of an expected invasion that never came. Following the Japanese attack on Pearl Harbor, California expected it's Pacific coats to be assaulted. In anticipation, defensive batteries of massive 16 inch gun were built as a protective shield. The invasion never came and the guns were carted away and melted, but the base implacements remain standing watch over the Pacific waves. © Bargain Travel West
Find best hotel and vacation deals in San Francisco on TripAdvisor


These articles are copyrighted and the sole property of Bargain Travel West and WLEV, LLC. and may not be copied or reprinted without permission.
See Also:

SAN FRANCISCO'S FISHERMAN'S WHARF
Best things to do on the famous wharf by the Bay
SAN FRANCISCO GO CARD
Savings Card For Bay Area Attractions
JAMESTOWN MOVIE STEAM TRAIN
California Gold Country Movie History

ORANGE EMPIRE RAIL MUSEUM
Living history for railroad buffs
FORBES ISLAND RESTAURANT
Surprising Underwater Dining on San Francisco Bay