Travel Bargain destination in California
MARK TWAIN HOTEL SAN FRANCISCO
Billie Holiday Suite and a Bargain Stay at Union Square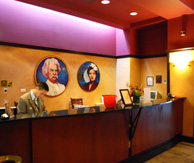 Most people know Mark Twain from his books inspired by his early days as a boy and riverboat pilot along the Mississippi, but before becoming the Great American writer and humorist, Samuel Clemens spent his early writing years as a reporter and newspaper columnist, first in the gold strikes era of Nevada, then in the post gold rush years spent in San Francisco after a brief stay in the Sierra's (see Mark Twain's Jumping Frog). Mark Twain the writer has no connection to Mark Twain the Hotel, built a half century following his departure for Connecticut and book tours to Europe (see. The Mark Twain Hotel's direct celebrity connection is to American jazz's and blues great chanteuse, Billie Holiday, who was arrested for opium possession while staying at the hotel with her former bassist turned manager, John Levy in 1949.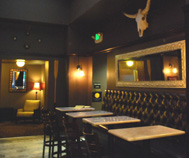 San Francisco can be an expensive town to find a hotel. The Mark Twain Hotel owned as a collection of boutique hotel properties under a CTwo brand is a quite reasonable cost conscious alternative to big brand chain hotels if staying downtown close to Union Square. The Mark Twain Hotel is located on Taylor St. at O'Farrell directly across the street from the San Francisco Hilton at half the price or better. Like most older city hotels, building is typical of San Francisco's 20's-30's non-descript architecture, but the lobby and lounge have a nice colorful design feel. The rooms are smallish, with wood frame windows rather than the plates of glass you'll find at the Hitlon, and certainly no grand atrium, but all with flat screen TV's. The Mark Twain is easy to get to for drivers unfamiliar with San Francisco - the 5th exit off the Bay Bridge virtually turns onto one-way Taylor Street. Within two blocks walk is Union Square shopping and the theater district. The hotel is comfortable with a friendly staff, a popular organic "Fish & Farm restaurant and an eclectic small bar/lounge rather known for serving its own concoctions of fruit and vegitable(!) based alcoholic cocktails. Try a Blueberry Daiquiri. Or if you want the big chain hotel experience without spending the bucks you can just cross the street to hang out in the Hilton Lobby.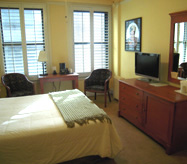 The hotel's claim to historical fame is the Billie Holiday Suite. Fans of the singer or those looking for a curious story to tell of a visit to San Francisco can request to stay in room 203. Not actually a suite, but a quite ordinary hotel room, the principal feature of which is a bronze plaque on the wall outside the door, and inside a framed poster art portrait of the singer and a newspaper article from the San Francisco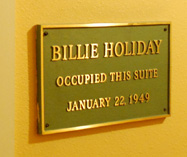 Chronicle recounting the story of a raid by the San Francisco police into the room on January 22 of 1949, during which a search uncovered an opium pipe and a small cake of the drug. Billie Holiday was in San Francisco for a performance gig and the bust was her second in two years. The defense first claimed the bust was a frame up by the San Francisco police, then blamed Levy. Billie Holiday was found not guilty, but that didn't stop a spiral downward as1949 turned out to be perhaps the zenith of Holiday's career as the hard living started to affect her voice.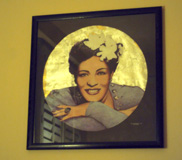 One might find oneself in the Billie Holiday suite without requesting it, even as a last minute cut rate offer as a standard class room. Notable only for its place in history, the room is on the first floor above the lobby with windows looking out on Taylor Street, which can be quite busy at all hours with street noise. No need for an alarm clock as the delivery trucks will rumble by in the morning, but then, that's San Francisco - if you want to hear sea lions and seagulls, stay by the wharf (see Wharf Inn). The hotel offers "superior" rooms which have upgraded linens and are on quieter higher floors. There is a city parking garage caty-corner a half block away on O'Farrell Street or in-out valet parking is offered for $27 a day. For those unfamiliar, the area around Union Square can be that San Francisco curious mixture, a little grotty with pan-handlers and street denizens, adult entertainment venues (the notorious O'Farrell Street theater is a few blocks west), mixed with high end stores and luxury hotels at Union Square and cozy Irish Pub bars. The Powell Street Cable Car line for a ride over the hill to Chinatown or the wharf is two blocks away, as is the Powell St BART station on Market Street. For a city and bay view walk (actually a climb) straight up Taylor street to Nob Hill. © Bargain Travel West
Book Hotel Mark Twain at Hotels.com


Find best hotel and vacation deals in San Francisco on TripAdvisor
Web Info
Mark Twain Hotel
These articles are copyrighted and the sole property of Bargain Travel West and WLEV, LLC. and may not be copied or reprinted without permission.
See these other articles on Bargain Travel West:
THE FRANCISCAN CRAB RESTAURANT
San Francisco Wharf Crab and Best Bay View Restaurant
SAN FRANCISCO CABLE CAR MUSEUM
Free Tour Historic Cable Car Powerhouse

SAN FRANCISCO'S FISHERMAN'S WHARF
Best things to do on the famous wharf by the Bay
LEGENDS OUTLET AT SPARKS MARINA
Twain Shopping Mall Wonder of Washoe