Travel Bargain destination in California
MOANING CAVERN
Go for a Spelunk in Calaveras Country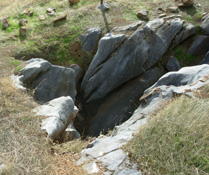 Imagine wandering around the ancient land of golden grass and oak trees hunting for a Sabretooth or just looking to pick a few berries and you fall into a hole in the ground, never to be seen again – for a few thousand years. This happened to more than one luckless caveman of the gold country area of central California. The local Miwuk indians around Calaveras County's Moaning Cavern told of a legend that a giant made of stone lived in the depths of the cavern and would eat anyone who came near it. And it did from time to time.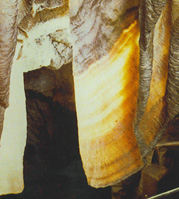 Gold miners discovered this unique geologic feature of nature in 1851 while tramping the hills looking for the precious metal they sought. (See Columbia: Gem of the Southern Mines). The Moaning Cavern is the largest single cave in California, a twisting cavern of limestone stalagtites form by eons of water drips, large enough to hold the Statue of Liberty and some of the oldest human remains in North America have been found in its depths. The cave gets its name from the odd, almost musical tone created by the wind passing over the opening, like mother nature's oboe.

The operators of Moaning Cavern offer a variety of activities, from a simple walk down the long series of steps to view the lighted fascinating formations of translucent curtains of stone, a nature walk around the nearly undisturbed hillsides of Coyote Creek Canyon or guided rappelling and spelunking journeys into the unlighted lower depths to explore the deep crevaces and caves.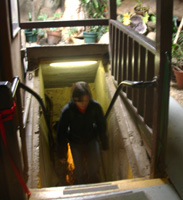 The Moaning Cavern is located in Vallecito, Calif. off State Highway 4 on Parrotts Ferry Road between Sonora and Murphys and is open all year around, with winter and summer hours. But even though the weather outside may be frightful in the winter months (only a few bad days a year, really), the temperature inside the cave remains virtually constant. If you want to take one of the rapelling tours, check ahead for avalability and preparations. For more cave exploring the Mercer Caverns are a few minutes away in Murphys, a popular wine tasting and history area. And the operators of Moaning Cavern also oversee other cave tour properties around California. © Bargain Travel West
Find the best hotel and travel deals in Murphys on TripAdvisor
Web info
Cavern Tours
These articles are copyrighted and the sole property of Bargain Travel West and WLEV, LLC. and may not be copied or reprinted without permission.
See these other articles on Bargain Travel West:

JAMESTOWN MOVIE STEAM TRAIN
California Gold Country Movie History

COVERED WOODEN BRIDGE OF KNIGHTS FERRY
River Rafting Gold Rush River Historic Site

CASTLE AIR MUSEUM
Aviation History from WWII and Cold War Eras
GROTTES AZÉ AND BLANOT
Cave Exploring in France
MARBLE ARCH CAVES GEOPARK
Underground River Caverns in Ireland