MONTEREY ROADSTER RENTALS
Romantic Classic Car Cruising the Monterey Penninsula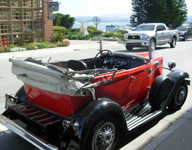 Cruising the California coast highway in a open-wheel classic roadster with the cool ocean breeze tousling your thinning hair as you take the curves above the crashing waves, stopping for a lovers lunch in charming Carmel. Winding through the Cypress swept scenic 17 Mile Drive. Golf at Pebble Beach or Spy Glass. A romantic picnic on the bay with a basket from the "boot" of your 1930 Ford Phaeton. A throw back to the glory days of John Steinbeck and William Hearst. Yes, that's the life. But wait… You didn't bring your vintage roadster with you? Well, never worry. Just rent one.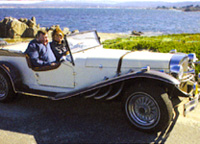 Rent-A-Roadster in Monterey, located on the famed Cannery Row a few blocks from the aquarium (see Monterey Bay Aquarium) with rent you a replica of a classic 1920's-30's roadster for a few hours. They offer a 1929 Model A and 1930 Ford Pheton and a 1929 Mercedes SSK reproduction of these vintage fine automobiles. They also have modern convertible sports cars like the Porsche Boxster. Since the cars are modern reproductions you don't have to worry about whether they're hard to drive. Just stab the gas, toot the aooga! horn and away you go. Don't count on an overnight standard car rental though. These pretty babies to toodle your pretty baby around in start at about $30 an hour. So drive away from the wedding, throw the bouquet, turn the corner, then untie the cans and get the rent-a-roadster back before it turns into a pumpkin. Walk-ins are welcome, but if you want a special vehicle, its best to reserve ahead. © Bargain Travel West
Find best hotel and vacation deals in Monterey on TripAdvisor
These articles are copyrighted and the sole property of Bargain Travel West and WLEV, LLC. and may not be copied or reprinted without permission.
See these other articles on Bargain Travel West:

MONTEREY BAY AQUARIUM

VICTORIAN INN - CANNERY ROW

MONTEREY HISTORY WALK