Travel Bargain destination in California
OLD TOWN CLOVIS
Antiques, White Water and Festus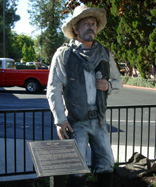 Between Fresno and the southern Sierra Nevada mountains is the flat featureless San Joiquin valley of farms and empty grassland. After the gold rush of the 1850's this area turned to farming and lumbering. In 1891 the town of Clovis didn't exist when an eastern entrepreneur Marcus Pollasky contracted with the Atcheson, Topico & Sante Fe railroad to build a rail line from Frenso to the tiny outpost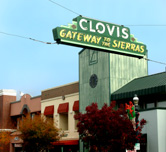 of Friant to serve the lumber mills and wheat farmers at the foot of the mountains. He built small rail station at Tarpey. Then legend has it he left, heading back to Chicago with money in his pocket from the contract. This legend is in doubt over 100 years later, but the town that grew around his railroad station still retains the old Califorina western feel. The Tarpey Depot is now restored to its original state and serves as Clovis' Visitor and Tourist Center, just past the hanging sign declaring Clovis as the "Gateway to the Sierras".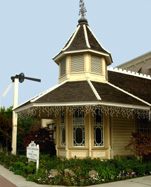 The area surrounding Clovis, now a suburb of Fresno is typical California suburban agri-business mix of sprawling growth, the Old Town center is a quaint and quiet little outpost of antique stores, mom & pop coffee stops, its own cowboy bar with a small card casino in a back room, the true modern day version of a cowboy saloon. In fact one of the symbols of Clovis is a famous television cowboy. "Festus" from the 60's TV classic "Gunsmoke". Actor Ken Curtis who played festus on the long-running western tv show wasn't born in Clovis but was a long time resident and his statue stands in the small park at Clovis downtown center, a popular recurring character forever continuing his supporting role.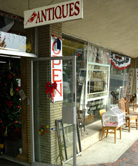 Aside from shopping for antiques and and collectibles in the five square blocks of "Turn of the Century" atmosphere, a walking tour of Old Town Clovis' 26 historic buildings and variety of restaurant, as advertised Clovis is a jumping point for visiting the Sierras. Kings Canyon and Sequoia National Parks are within an hours drive, along with several low Sierra lakes for fishing, and water activites, Bass Lake, Shaver Lake, Millerton Lake behind Friant Dam. Also nearby are the Caffee Zoo at Roeding Park in Fresno, boating, camping and canoe and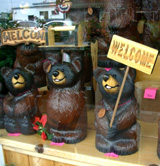 kayaking rentals on the San Joaquin River at the San Joaquin River Parkway, or whitewater rafting on the Fresno River. Kearney Park on the west side of Fresno holds one of the largest Civil War reenactments in California and the Clovis Rodeo in April is one of the largest rodeos in the west. Other seasonal events are the Antiques and Collectibles Fairs in March and October and the Clovis Big Hat Days the first weekend in April with crafts and foods in a country/western celebration for the whole family and again on the last weekend in September Clovisfest features two days of live entertainment, hot air balloons, a beer garden and one of the central valley's biggest car shows the Cool Clovis Classics. © Bargain Travel West

Stay at the Best Western B/W Clovis Cole
right behind the Tarpey Depot Visitors Center.
Find the best hotel deals, compare prices in Clovis on TripAdvisor
Web Info
Clovis

These articles are copyrighted and the sole property of Bargain Travel West and WLEV, LLC. and may not be copied or reprinted without permission.
See these other articles on Bargain Travel West:

EASY HIKING YOSEMITE NATIONAL PARK
Guided Day Hike Adventures

COVERED WOODEN BRIDGE OF KNIGHTS FERRY
River Rafting Gold Rush River Historic Site
CALIFORNIA NORTH-SOUTH HIGHWAY ROUTES
Driving to get to the California Scenery
NATIONAL COWBOY & WESTERN HERITAGE MUSEUM
Cowboy Hall of Fame in Oklahoma City
MESOTHELIOMA - ASBESTOS LIABILITY
Abandoned Mines and Movie Effects