CALIFORNIA NORTH-SOUTH HIGHWAY ROUTES
Driving to get to the California Scenery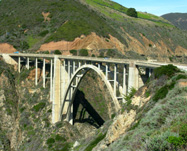 "I'm arriving in Los Angeles and leaving from San Francisco and I want to see the west coast. I'm planning on renting a car and driving to Las Vegas, the Grand Canyon, Yosemite, see some gold country sights and take the coast road to Big Sur and San Francisco, Monterey and Sonoma Wine country if I have time. And I have 5 days." Say what? Let's see. Los Angeles-Las Vegas – 6 hours (5 hours when traffic's light, like at 3 am) Las Vegas to Grand Canyon – 5 hours. Grand Canyon to Yosemite. It's after September and before June, the Sierra Mountain passes are closed, 6 hours back over to Bakersfield, 4 hours to Yosemite Valley, an hour in traffic to get through the valley. 5 hours to Monterey, 4 hours to San Simeon (unless its foggy - 6 hours), 7 hours back to San Francisco. Easily doable if you sleep in your car and piss in a cup. And 400 dollars in gas. Wait, I forgot Sonoma. Okay, I know this is extreme. Most people allow at least 9 days. Kidding. Really.
There is beautiful scenery to see in California and the west. And there is a lot of scenery in between. Once you get out of the traffic jammed cities and onto the highway, there are scenic magnificent drives and fast highways. The scenic routes take twice to three times as long to travel as the highways. And bear in mind the distances between some of the more famous sights. Getting from Southern to Northern California allows about 5 different routes. Interstate 5 is about the only way to get from San Diego to Los Angeles and travels through lots of populated area, usually about 2 hours (3 or more during rush hour).
COAST HIGHWAY ROUTES
Highway 101 leaves the Los Angeles area through the San Fernando Valley, often heavy traffic. Highway 101 is the original route to San Francisco along the old California Mission road, with lots of interesting stops, missions and old towns, Santa Barbara, Paso Robles (see Paso Robles Wine), Hollister (see Mission San Juan Bautista), San Jose up the west side of the San Francsico Bay past SFO Airport. In normal traffic LA to San Francisco with ordinary stops takes about 7-8 hours.
The scenic coast Highway 1 departs from the 101 just after San Luis Obispo. Famed for its rugged coastline beauty, it's a tempting scenic drive. From the split from 101 to Carmel takes about 5 hours. Taking the 101 to the 41 cut-off at Paso Robles over to Cambria and Hearst Castle (see Cambria) bypassing Morrow Bay shaves a half an hour. Sections of the coast highway road is very winding, with steep drop offs in spots. If a weather system is hugging the coast, often in late fall through early spring, heavy fog may obscure both the scenery and the road, making for an experiment in courage, and an extra hour or two. The road is noted for its bridges at Bixby and Big Creek.
From Carmel or Monterey (see Monterey History Tour) its common to head back to the 101 to continue to San Francisco, though its also possible to continue around Monterey Bay to Santa Cruz and up to coast to Half Moon Bay or the Cliff House and the Sutro Baths entering the city by the bay through Golden Gate Park, or cut across Highway 17 to San Jose, back to the 101.
CENTRAL CALIFORNIA ROUTES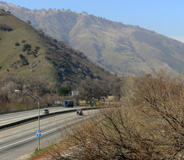 Interstate 5 is the fastest route north and south from Los Angels to San Francisco or Sacramento, and on to Shasta and Oregon is . While direct and no-nonsense, the Interstate 5 freeway through central California is perhaps one of the most boring highways, traveling along the edge of the coast mountain range and the farm land of the central valley. Four lanes but traveling through almost no cities. There are some interesting stops along the I5, famous split pea soup at Andersons and thick steaks fresh from the range at Harris Ranch (see Harris Ranch Restaurant & Inn), but for the most part, just gas stops. If traveling from the south to the Sierra Nevada mountains or to cities of the central valley, the highway to take is US 99.
Highway 99 is the route through California's central valley, the original north-south highway. US 99 used to run through the center of valley towns, but over the years has been turned into an Interstate freeway except in name. It connects from Interstate 5 at the southern end of the central valley just north of the "Grapevine" that fast rising pass from the San Joaquin valley floor to the nearly 4000 foot Tejon Pass, which in winter can be hit with snow when all else is sunshine. From Bakersfield to Sacramento, Highway 99 passes through a series of towns and California farms turning to suburban landscape. The main cities along Highway 99 - Bakersfield, Fresno, Modesto, Sacramento are spaced about 100 miles apart. Much of the route is 6 lanes, but some of the older four lane sections still remain and can be thick with truck traffic during the week, but otherwise a free flowing interstate with lots of places to stop - curious towns with odd names an unique histories (see Clovis Old Town). In winter months December to February the California Central valley is subject to thick fogs, especially near the rivers which it crosses, often in the early mornings, but sometimes all day long.
Highway 41 at Fresno heads into the Sierra Nevada foothills and connects with Highway 49, also known as the "49er Highway" as it follows the route through the foothill communities that first grew from the California Gold Rush. Highway 49 can be a beautiful scenic road through a series of quaint and romantic gold rush towns full of history. Sections of Highway 49 can be very curvy with steep drops offs, especially in the section between Mariposa and Coulterville (see Hotel Jefferey). The road is sometimes nearly all to yourself, but traffic can slow behind RV's and mobile homes. The routes to Yosemite National Park, 120, 140 and 41 all connect off of Highway 49 and several routes cut down into the valley to connect with Highway 99.
When route planning for driving into the California hills. Bear in mind that many valley roads travel on an apparent diagonal. This is because the central valley lies on a northwest to southeast geographical line, but the early country roads and city streets were laid out to the compass north-south. Other roads follow the paths of the many rivers which flow from the mountains to the main San Joaquin and Sacramento Rivers which form the central valley.
EASTERN SIERRA ROUTE 395
Highway 14 splits from Interstate 5 just north of Los Angeles into the high desert to Mohave and Interstate 15, the main route of Los Angeles to Las Vegas, are the routes to connect with Highway 395, the mountain route which travels along the back spine of the high Sierras from Mohave to Reno and Lake Tahoe. Highway 395 is a beautiful drive, a mostly flat or sloping and relatively straight road of two lanes in the desert section to 4 lanes along much of its length, that passes through volcanic rock canyons in the south, near but not through Death Valley and past the high mountain peaks, the route to Mammoth Lakes and Mammoth Mountain ski resort in winter. Fishing and hiking is popular in summer around many lakes and rivers. The Mule Days in Bishop a big unique attraction on Memorial Day Weekend. The ghost town of Bodie and Mono Lake are popular destinations along Highway 395. The major pass routes across the Sierras connect with Highway 395. Highway 120 to Yosemite Valley at Lee Vining and Highway 108 across the Sonora Pass at Bridgeport. Both incredibly scenic roads in summer and closed in winter (see Sierra Pass Closures). From just south of Carson City Nevada, Highway 89 connects with Highway 4 to Arnold and Highway 49 at Angels Camp (see Wine and Mark Twain) and to South Lake Tahoe and Highway 50 to Sacramento. US 395 stays open though the winter, though can be subject to limited closures or chain control during heavy storms. © Bargain Travel West
These articles are copyrighted and the sole property of Bargain Travel West and WLEV, LLC. and may not be copied or reprinted without permission.
See these other travel articles on Bargain Travel West:
A PASS FOR ALL SEASONS
U.S. Federal Land and National Park Use Passes

COLUMBIA STATE PARK
Travel Gem of the Gold Rush

SAN FRANCISCO'S FISHERMAN'S WHARF
Best things to do on the famous wharf by the Bay