Travel Bargain destination in California
SIERRA NEVADA PASS CLOSURES
Yosemite National Park to Highway 395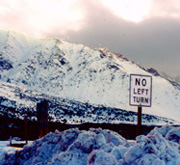 Many first time visitors to California and the west coast, and locals unfamiliar with the glorious Sierra Nevada mountains thinking of a late season road trip, look at the map and think, "Oh, I can drive from San Francisco to Yosemite, then over to Highway 395 to Death Valley and Las Vegas". Well, a good idea in the summer, but not so practical between about the end of October to the middle of May. The passes over the Sierra Nevada mountains range from about 7,000 to nearly 10,000 feet in altitude. Snows at the higher altitudes are plowed for the first autumn storm or two, but soon the plows stop and the passes close for the season.
Tioga Pass on Highway 120 through Yosemite National Park is the highest pass in the Sierras and usually is the first mountain highway pass to close. It is also the farthest pass south until you get to Tehachapi over Highway 58 between Bakersfield and Mohave. At over 9,000 feet, the Tioga Road over the pass historically closes as early as the third week of October and as late as mid-November. When the pass is open it takes a bit less than 2 hours from the Yosemite Valley to connect with Highway 395. Once the pass closes you can only head back out the west side.
Sonora Pass at about 8,000 feet on Highway 108 from the gold rush town of Sonora to Bridgeport is the next to close, typically about a week later, by November 1. Highway 108 goes to Dodge Ridge for skiing and closes just past Pinecrest Lake in winter.
Ebbets Pass on Highway 4 is one of the lowest of the passes and usually closes the latest, around mid-late November. It is also one of the lesser traveled highways of the sierra passes and can be a bit narrow at the top, but leads to Lake Tahoe over Monitor Pass on Highway 89 or Carson City and Highway 395. Hwy. 4 remains open to Bear Valley for skiing and to Calaveras Big Trees park in winter.
Highway 50 from Sacramento to South Lake Tahoe and Interstate 80 to Reno remain open through-out the year, though in winter months can be subject to chain requirements and travel escorts by Highway Patrol during snow storms.
Highway 58 from Bakersfield to the Mohave Desert, the southern-most crossing, between the southern Sierra and the Tehachapi Mountains connecting with Hwy 395 is open all year, with some brief closures in heavy storms or occasional chain requirements.
Once the passes close, the highways are kept open by plowing as far as ski resorts and other attractions. Yosemite Valley at just over 3,000 feet remains open all year and the roads in and out of the park on the west side remain open, though sometimes chains are advised, and occasionally required. From the eastern side of the park from Lee Vining, the pass on Highway 120 closes just a few miles inside the Yosemite Park boundary.
Winter Alternate
Should a visitor to Yosemite National Park want to cross the Sierras to the eastern side or Nevada after the passes have closed, there are two options. Drive south on Highway 41 to Fresno, connect with Highway 99 to Bakersfield, then Highway 58 over Tehachapi Pass to Highway 14 and Highway 395 at Mohave, or Interstate 15 at Barstow. From the Yosemite Valley to the Fish Camp gate near Oakhurst is about 45 minutes to an hour depending on traffic. Bakersfield is about 3 hours driving from Oakhurst.
The other option is to take Highway 120 out the northwest gate of the park to Highway 49 through Sonora to Highway 50 to South Lake Tahoe or to I80 to Reno. From Yosemite Valley to Sonora is about 2 hours and to Highway 50 another 2. Highway 140 from Yosemite to Mariposa and to Highway 99 at Merced is open to auto traffic but not trucks or large motorhomes (it was closed last year due to a land slide).
Pass closures can be checked through CalTrans (California's State Highway agency) or calling 1-800.427.7623. Tioga Pass and other Yosemite National Park conditions can be checked by contacting the National Park Service at the park itself. If you need to take chains and you're renting a car, make sure your rental car company allows them. © Bargain Travel West
Find the best hotel and travel deals in California on TripAdvisor
These articles are copyrighted and the sole property of Bargain Travel West and WLEV, LLC. and may not be copied or reprinted without permission.
See these other travel articles on Bargain Travel West:

CALIFORNIA'S SCENIC GOLD HISTORIC ROAD
Driving the Forty-Niner Highway State Route 49
A PASS FOR ALL SEASONS
U.S. Federal Land and National Park Use Passes

JUST US GHOSTS
Sierra Sky Mountain Ranch

ANGELS CAMP
Gold Rush, Wine and Jumping Frogs
YOSEMITE MOONLIGHT STEAM TRAIN
Suger Pine Railroad