Travel Bargain destination in California
CALAVERAS SIERRA WINE TASTING
Liquid Gold in California's Gold Country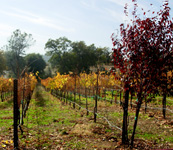 Calaveras Country in central California gold country Sierra Nevada Foothills is one of the newer popular wine growing regions in California, currently with 18 wineries within a radius of twenty miles, for a wine tasting tour experience for a day or weekend excursion about 2 hours from San Francisco or Sacramento and an hour from Yosemite National Park.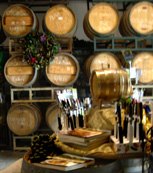 The center of the Calaveras Wine Alliance wineries is Murphy's California, a unique gold rush era town off-the-beaten track. Although it can become quite busy little rustic tourist town during special event weekends for the wine tourists as well as antique stores, art galleries and craft shops. Traveling up Highway 4 from the intersection with Highway 49 at Angels Camp, famed for Mark Twain's Jumping Frog (see Angels Camp) the first winery you come to is one of the newest, the Irish Vineyards in Vallecito. Family run and located on a farm dating from 1867 the Irish Vineyards offers a variety of varietals and special blends, including their own unique Irish inspired green wine.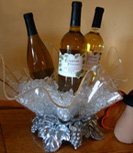 Chatom Vineyards is a few hundred yards up the road offering a number of award winning varietals. Once you turn into Murphys and find a parking space, Main Street has several wine tasting rooms. The Milliaire Winery is the personal winery owned by husband and wife team Liz and Steve Millier. Steve has been the wine maker for several of the local wineries and currently is the the master vinter of one of the areas largest wine and entertainment operation Ironstone Vineyards (See Wine Tasting Entertainment Park in Sierra Foothills).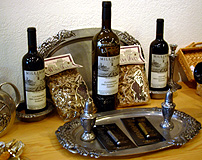 One of the oldest wineries in terms of the history of its buildings and location is the Stevenot Winery, an estate vineyard on 92 acres, established in 1978 in a former gold era mine and ranch operation, the Stevenot vineyards were one of the pioneers of the rebirth of wine production in the Calveras Mother Lode. The vineyards with picnic grounds amid the rustic gold rush era environs are located up a long windy road (Sheep Ranch Road) up the hill from central Murphys. They also have a second tasting room on Main Street in downtown Murphys.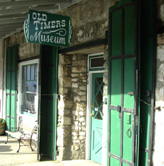 While in Murphys, don't forget to check out the local Old Tiimers history museum across from the Murphy Hotel, filled with items from the fascinating history of the town, many of them like ornate carved bar backs and old piano shipped out from the east during the gold rush but left behind when the gold ran out. There are also two underground caverns to explore in the area (See Moaning Cavern) and Calaveras Big Trees park for giant Sequoia redwoods is about 20 minutes farther up highway 4 which in the summer with the high sierra passes are open is a beautiful scenic drive to Lake Tahoe and Carson City, Nevada (see Talking Houses of Carson City).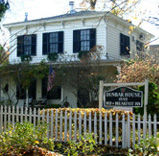 Two unique places to stay in Murphys for a couples romantic getaway to take you back to the colorful old historic days when presidents, robber barons and bandits would come to town are the gold rush era Murphys Hotel (See Murphys Historic Hotel) and the Dunbar House, a Bed and Breakfast Inn in a former ranch house from 1880 rated one of the best Bed & Breakfasts in the Sierras and one of the "best places to kiss" in Northern California, located a block from Main Street among a lush garden under pines and elm trees. © Bargain Travel West
Some of the yearly special wine events in Calaveras
Presidents Wine Weekend in February
Calaveras Passport Weekend in June
Vineyard Tour and BBQ mid-July
Calaveras Wine Stomp first Saturday in October
Holiday Open House in December
Wines of the World is a group gathering monthly
Find the best hotel and travel deals in Murphys on TripAdvisor
Web Info
Calaveras Wineries
These articles are copyrighted and the sole property of Bargain Travel West and WLEV, LLC. and may not be copied or reprinted without permission.
See these other articles on Bargain Travel West:

PASO ROBLES WINE FESTIVALS
Central Coast Wine Tasting

WHALE WATCHING AND WINE TASTING IN MENDOCINO
Wine and Whale Festivals on California Coast
OAKDALE - GOURMET COWBOY COUNTRY
Barbeque and Romance - Dinner Train, Murder Mystery and Rodeo

COLUMBIA STATE PARK
Travel Gem of the Gold Rush