Travel Bargain destination in California
SIMONIAN FARMS
Roadside Fruit Farm as Museum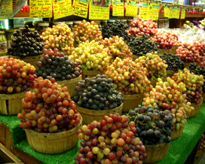 So you're driving down the road to somewhere, or no destination in partcular and you pass a lpace that makes you say what the heck is that. You don't stop because they don't have a big sign telling you what it is. But the maybe next time you pass, you'll stop. The Simonian Farms on Clovis Ave. (see Old Town Clovis) on the outskirts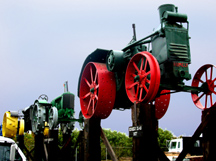 of Frenso, California doesn't have a big sign, they have old tractors, a steam shovel and gas station signs, railroad ties and fruit. In 1901 Armenian immigrant Bagdasar Simonian and his family began farming in the San Joaquin Valley and their roadside fruitstand has become over time a charming personal museum of 100 years of family farm memorabilia and collectible, with one of the largest collections of antique farm equipment in California, inculding 35 restored steel wheeled antique tractors.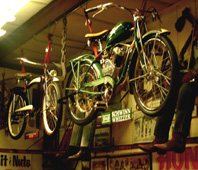 As a business, this family-run farm is uniquely one-of-a-kind in growing and selling direct over 100 varieties of fruits and vegitables. Cherries, peaches, grapes, figs, tomatoes, sweet corn, onions, almonds, walnuts, are just a few that are grown on the farm and displayed in the roadside market amongst a fascination display of old mannequins, bicycles, porcelain signs, and even a model train which steams along a track over and around the displays of fresh and dried goods in tantalizing abundance. And tasting is allowed. To find this curious place take the Clovis Avenue exit from California Highway 99 south of Fresno for about 4 miles north, or Jenson Avenue west. The will also gladly ship their products with gift packages from their catalogue.© Bargain Travel West
Find the best hotel deals, compare prices in Fresno on TripAdvisor
Web Info
Simonian Farms


These articles are copyrighted and the sole property of Bargain Travel West and WLEV, LLC. and may not be copied or reprinted without permission.
See these other articles on Bargain Travel West:

PASO ROBLES WINE FESTIVALS
Central Coast Wine Tasting

COLUMBIA STATE PARK
Travel Gem of the Gold Rush

JAMESTOWN MOVIE STEAM TRAIN
California Gold Country Movie History
TALKING HOUSES OF CARSON CITY
Kit Carson Trail in Nevada's State Capital
GUBLER ORCHIDS TOUR
Orchid Growing the Yucca Valley Desert